Starting a franchise can often appear scary and daunting, but in fact it has never been easier with the step-by-step process from Amazing Athletes – we're here to help and support you along the way! The simplicity of our business model makes the startup process an easy one, even for someone who has never owned a business before.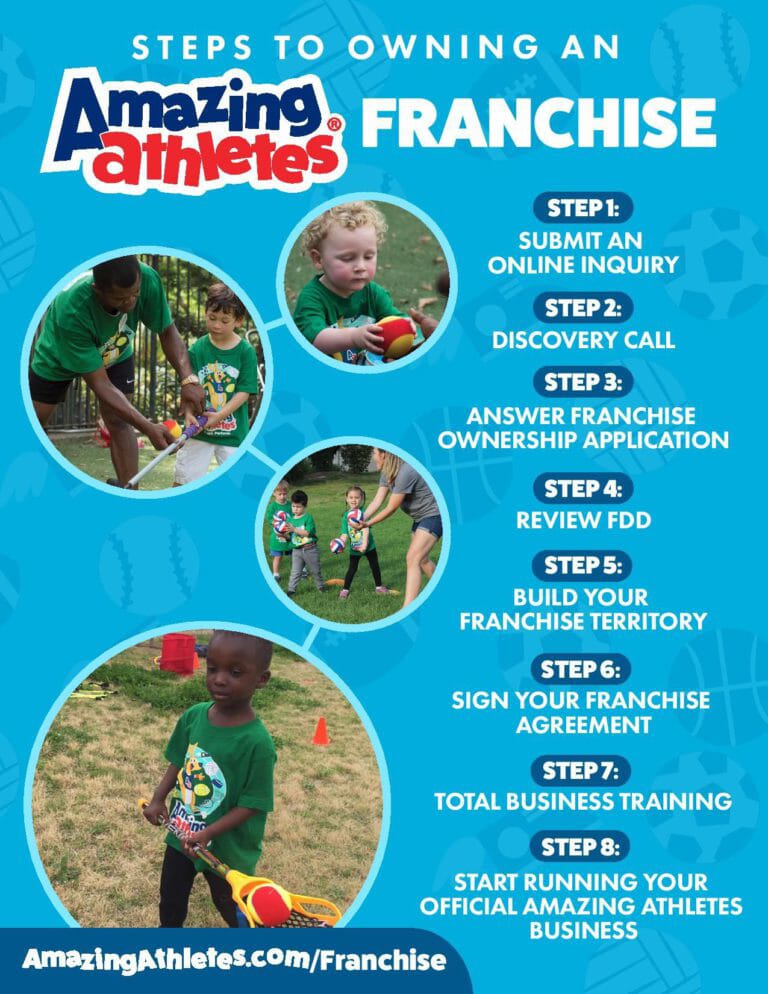 Take a sneak peak at some of the key steps new franchisees work through to familiarize yourself with the process:
Start researching. Our website is a good place to start. We have a great deal of information about starting a children's fitness franchise, industry trends, as well as training and support guidance. If the basics sound appealing to you, you're ready for step 2…
Submit an inquiry form. Our contact form, found on our website, indicates to us that you'd like to learn more. We'll set up a time to connect!
Get to know one another with a Discovery Call. Once you schedule a Discovery Call, we'll ask you questions about your background and goals, specifically why you're interested in starting a youth sports franchise. We'll share more about our brand ethos and company as a whole, along with the qualifications we look for in potential franchisees. If it seems like a good fit we move on to…
Review the FDD (Franchise Disclosure Document). Important: Make sure to read through the FDD fully as it contains fine print about our obligations, fees you'll be expected to pay, and much more about our brand.
Reviewing your financial standing and background. We aim to determine whether or not you have sufficient capital to nurture an early-stage business without breaking the bank. We want to ensure that you're qualified to run an Amazing Athletes franchise.
Signing Your Franchise Agreement. Congrats, you've made it this far! Now the fun really begins! We start to create and plan for owning your kids fitness franchise.
Training. You'll spend about a week learning and ideating with our corporate team. You'll go over our curriculum and the basics of owning and operating your very own franchise.
Grand opening! We'll help you develop a targeted marketing plan to build brand awareness about your business before opening. We'll work closely with you to make sure you're utilizing the tactics you've learned in training. 
Now what?!? 
You start growing your business! You're building out your team, providing quality service to your clients, and generating positive buzz. Don't worry, our help and support does not stop here! Amazing Athletes is there to show you the ropes when it comes to growing your business, available to answer any questions that might come up, and consult on any new ideas you might have. Being excited about your new endeavor is key!
Think you're ready to start your own Amazing Athletes journey?